Cultivar epithet: 'Crocodile'
Species/hybrid: Heliconia curtispatha x mariae
Description: Pendent inflorescence; 49 slightly spiral bracts, red with black lip, 5.5 cm wide, 7 cm long; rachis red; sepals yellow.
Vegetation musoid; leaf blade 61 cm wide, 230 cm long; white waxy coating and maroon midrib on lower leaf surface; leaf blades lacerating into lateral segments. Height 6.5 m (21 feet).

Nominant: C. Black and A. Rodríguez (2004)

Publication: Brunner, B.R. 2005. Registration of H. 'Crocodile' and H. 'Johnson Beharry V.C.'. Bull. HSI 12(2):16.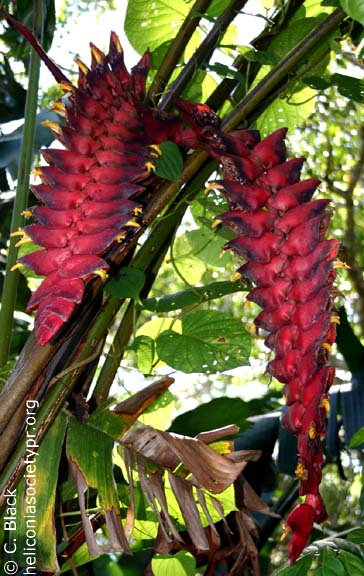 Heliconia curtispatha x mariae 'Crocodile'

Heliconia curtispatha x mariae 'Crocodile' close up