Cultivar epithet: 'Dwarf'
Species/hybrid: Heliconia rostrata
Description: Pendent inflorescence, 4 to 15 distichous bracts, red over most of the bract, yellow distally with green-yellow lip, rachis red, sepals yellow distally turning pale yellow at base, ovary and pedicel white. Vegetation musoid. Height 5 to 6 feet.
Nominant: M. Collins (1992)
Publication: Stokes Tropicals. 1999. Catalog. New Iberia, Louisiana.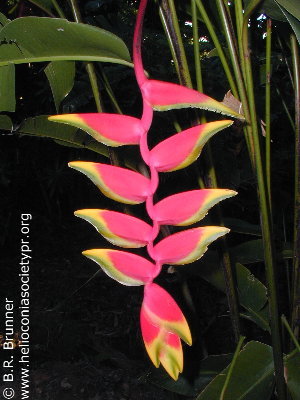 Heliconia rostrata 'Dwarf'