Cultivar epithet: 'Frosty'
Species/hybrid: Heliconia pendula
Description: Pendent inflorescence; 8 to 10 distichous to spiral bracts, pink-red at base and onto keel, yellow-white on distal
cheek, lip and tip; rachis red to deep red; sepals white; ovary and pedicel white with yellow tint. Vegetation musoid, with white waxy coating on stem, petiole, and lower leaf surface. Height 1.8 to 3.6 m (6 to 12 feet).

Publication: Berry, F. and W.J. Kress. 1991. Heliconia: An identification guide. Smithsonian Institution Press, Washington.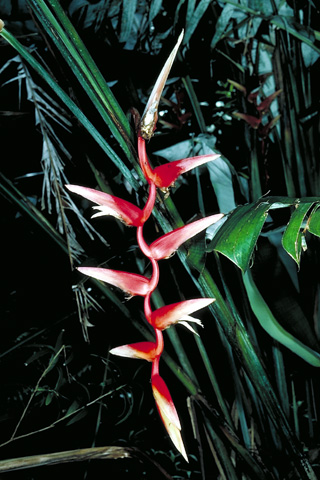 Heliconia pendula 'Frosty'
(Photo by W.J. Kress, Courtesy of Smithsonian Institution)