Cultivar epithet: 'Giant Lobster Claw'
Species/hybrid: Heliconia bihai
Description: Erect inflorescence, 8 to 14 distichous bracts, red cheek with green lip and tip extending onto distal keel, thin yellow stripe beneath proximal green lip, yellow and green area around base onto lower proximal keel, basal bract sometimes mostly green, bracts swollen laterally at base. Rachis green, sepals green distally and white below, ovary and pedicel white. Vegetation musoid. Height 8 to 18 feet.
Publication: Kepler, A.K. 1989. Exotic tropicals of Hawaii. Mutual Publishing, Honolulu.
Berry, F. and W.J. Kress. 1991. Heliconia: An identification guide. Smithsonian Institution Press, Washington.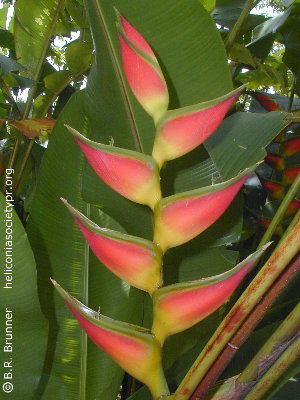 Heliconia bihai 'Giant Lobster Claw'